Easy Chicken Salad Recipe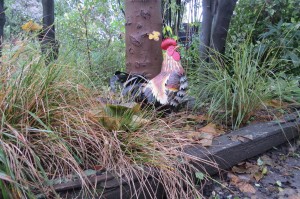 Shred a lettuce or two into a large bowl.
Add three roughly chopped red or yellow peppers.
Add a bunch of finely chopped spring onions.
Add three sliced cucumbers.
Add six roughly chopped tomatoes.
Add four finely sliced stalks of celery.
Add  four finely grated radishes and one large carrot.
Add cooked chopped eggs if you like.
Add shredded roast chicken into salad.
Add mayonnaise of choice.
Finely grate cheese of choice over top.
There you have it…a yummy quick meal.
I roast the chicken in the morning, giving it time to cool in the fridge before adding to the salad.
And if you like, cheese mashed potatoes is an excellent accompaniment.