Honey Roasted Veges Recipe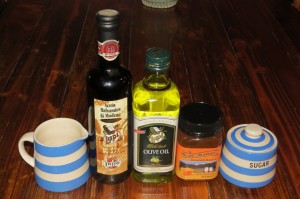 500g of combined raw veges:
Yams
Kumara
Potatoes
Pumpkin
Onions
2tb Olive oil
2Tb Honey
1Tb Balsamic Vinegar
Mix the above 3 ingredients together.
Cut veges into chunks and toss in the mixture.
Bake 180C for 30-35 minutes.
Serve hot or cold.
Great with a salad.
If you are feeding a tribe, double the recipe.