22 Feb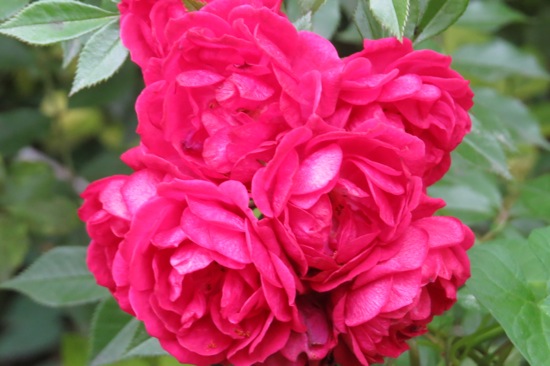 Life is still very busy on the Orchard what with plums and now Cox's Orange apples just starting to come in.
I love stewed Cox's Orange apples and custard and I am amazed as to how many folk have never tried or made this wonderful quick dessert.  But then again with all the fancy cooking shows on TV, a lot of folk expect something spectacular to be served up these days!
*******************************************************************
Many thanks to Jim and his friends who offered to clean out our dam after his wife read on a certain couples Facebook page last week that our dam has a 'sand bar'.
As he had walked the Orchard many times with Sam and hadn't noticed a sandbar he wondered what was going on so gave Sam a call.
Actually we received a lot of phone calls that night and over the next few days.
A laugh was had by all but now I must explain to all that this is just another lie generated by 'the middle-aged couple' who have made it their life's work to harass/bully/intimidate us FOREVER!!!!!!
And the fact that we won't respond to their 'lies' appears to be taken as a sign of weakness so they continue.
We are not weak or scared of them;  the reason why we haven't run around town defending ourselves or creating our own Facebook page is because we have to work for a living with no actual spare time.
Now back to the dam….there is not a sand bar and there never has  been  a sandbar!
The problem was originally with the water not always reaching our dam, not with the dam itself and besides this problem was resolved last year in May, as they fully well know.
They are desperately trying to divert attention away from what they did to Alex prior to his death as they really don't want this becoming common knowledge.
We were never going to reveal their dastardly deeds but their ludicrous two year campaign of lies/bullying/harassment   and then of course four months ago they added cyber bullying to the mix along with their own Facebook harassment;  all of which has made folk question their motives; so  basically they have exposed themselves!
Not a single thing they have said or written about us is factual and we can prove it and they know this!
A few believe them but they are only the minority.
There will always be stooges, gossips and the gullible in life, I'm afraid.
After Alex, I was their second victim, then Sam, then Ruby and now back to Sam.
The lies about Sam are absolutely despicable and shows how low they will go to cover their tracks. Once again we have the proof that discredits their lies.
I'm worried it will be Lugs (the cat) next……
Grateful thanks to those who let us know what is being said. Without you guys we would still be in the dark and to those on Facebook, please don't de-friend them as forearmed is forewarned.
Footnote:
Never for a minute, four months ago, did we entertain the idea that we would go public with the  bullying/harassment situation that we found ourselves in but of course that all changed when the 'bullies' started their Facebook  postings as dozens of friends and customers were mortified to read such venomous lies about us and so we then decided to break our silence and admit to being bullied. I'm afraid to say our silence isolated us and that is the very thing a bully wants to happen as they gain complete power. Not any more!!!!!!!
**************************************************************
I made an apple shortcake this morning  so thought I would share my recipe with you and a photo of the last slice.
Stew up some cooking apples;  sweeten with sugar whilst cooking to get the taste right.
Cox's Orange are the apples I used.
Any cooking apple will suffice.
Let cool before using them in the following recipe.
Ingredients for Sandra's  Apple Shortcake  Recipe 1979 ( Too easy)
450  g Flour
2 tspns Baking Powder
250  g Butter
2 eggs
2 Tablespoons Sugar
Milk (just enough to bind…about 3-4 Tablespoons)
Chuck flour, baking powder and chopped butter into a food processor.
Blitz for a few seconds.
Then blitz in eggs and sugar.
And now for the milk.
Be careful as you pour in the milk; just enough to bind; not flood the mixture.
Roll out on a floured surface  and and cut in half.
Press one half of the dough evenly over base of a 30cmx 22 cm pan ; coat thickly with stewed apples and top with the other half.
Brush over with milk.
Bake at 180 degrees for 25-30 minutes.
Dust icing sugar over the top as soon it leaves the oven.
Lovely hot with custard or whipped cream or served cold.
I prefer it both hot or cold by itself.
**********************************************************
This is our second season  hosting wwoofers and I am so glad Sam and Ruby signed us up for them.
Wonderful young folk from all parts of the Northern Hemisphere have camped in our sleepout/cabin over the past year and a bit.
One of our wwoofer's looked a lot like 'Shaggy' from Scooby Doo' so Aunty Belle was thrilled.  She is even more thrilled now as we've told her he is returning for another stay soon.
So many have learnt the art of bottling during their stay  from Ruby as she is the main bottler in our house these days.
One evening I got up at 11:30pm for a drink of water and I found Ruby and Anne (Wwoofer)  bottling!!!
They had to get up early the next morning but that didn't stop them as they  were determined to get a few batches of Blackboy peaches completed.
The enthusiasm of the young!!!!
I can hardly remember it!!!!!!!!!!!!!
Tomorrow is plum jam day.
Jars are washed and ready for action.
I would make a batch tonight but age and weariness is against me.
I'm milking this "I'm 60 this year."
*************************************************************
Lugs bashed up a ferret the other day right in front of Aunty Belle.
She was most impressed.
The ferret hid for a few days under the storage shed, too frightened to come out.
When he did venture out, the silly boy crawled into a  trap and hey presto …dead.
What a large buck he was!!!
Here's a photo of a tired Lugs resting  after the beating he gave out and a photo of her standing over said ferret after Sam chucked it on the deck.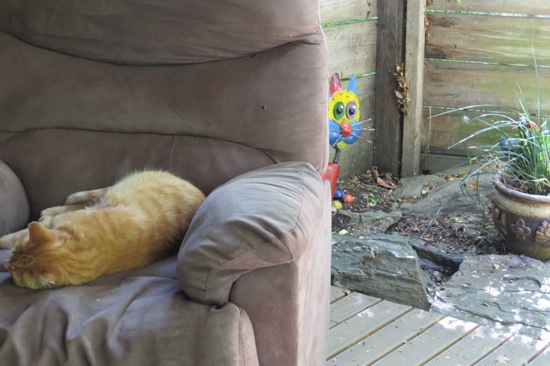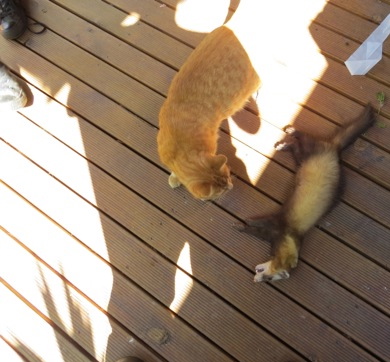 Thanks Lugs and if you ever go home to your rightful owner, please swing by occasionally to beat up the odd ferret.
And furthermore who else will drop off dead rabbits in the sunroom; who else will sleep on Sam's bed all day; who else will sleep on the deck waiting for morning so as to be fed and who else will find an empty box on the Fruit Stall counter and sleep in it, not even stirring whilst customers pat you!!!!!
We always said we wouldn't become attached to you as you are Mollys' cat but damn you…. we are……
******************************************************************
Here are a few photos from this season.
Be kind to one another and always remember, our time on planet Earth is just fleeting.