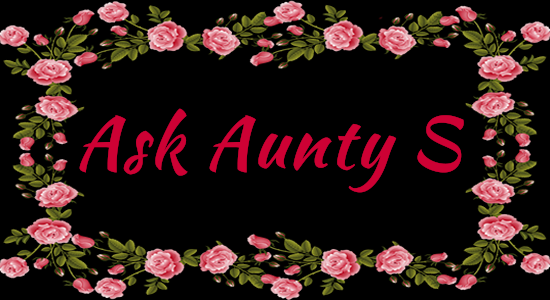 Dear Aunty S
My life is so boring as I do the same thing every day and I need some excitement.
I have a sister in Sydney and she says come over and get a job working for her as she is recruiting new workers but now I am scared to make the change.
Help?
Aunty S responds
It's just you on your lonesome so take a gamble.
You are restless my dear and sometimes a change is all that is required to recharge the batteries.
If you don't like Sydney, you may very well come back with a more positive focus and you are in a very fortunate situation as your job and Flat will be waiting for you so tell your Mum not to rent it out, so pack your bags and hop on a plane and check out what your sister has to offer.
Good luck.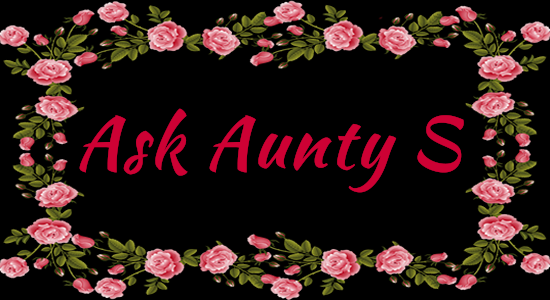 Dear Aunty S
My mother in law is horrible to me but is nice when in front of my husband while talking to me.
I have never told my husband as he loves his Mum but now I am pregnant I feel the time is right to tell him.
What do you think?
Aunty S responds
Okay…. your mother-in-law doesn't like you and is a bit of a witch.
My dear girl she wants you to tell her son so there will be a scene, she'll burst into a flood of tears and your husband will be torn between the two of you and a long-running drama will commence.
Relatives will choose sides ….her cat will snub you…..
My darling girl, do nothing.
Some mother-in-laws are angels from heaven while some are witches from hell.
Some mellow as time goes by, while others sharpen their knives.
If she changes, how nice, if she doesn't, don't worry about it.
And remember you are not alone as there are many women out there with the same struggle.
Contact me anytime.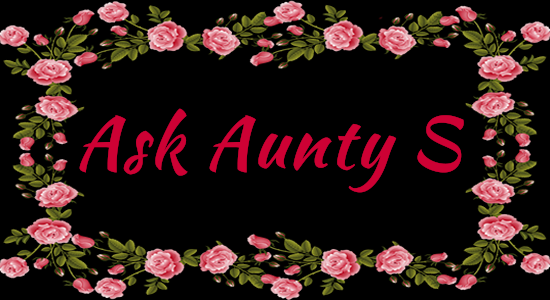 Dear Aunty S
My sister is having a big white wedding paid for by our parents, they are so proud of her as this is her first marriage so are going all out.
It doesn't matter she's had four other long term relationships, apparently they don't count as she never married any of them.
I am so angry and upset as they never offered to pay for my second marriage. \
My first husband cheated and broke the heart of myself and our children but we now have a wonderful man in our lives who they will not accept as family as he only my second husband.
How do I get over this feeling of anger?
Aunty S responds 
My darling girl you have every right to feel angry but I think you probably feel more sad than angry.
Some parents are either silly, wicked or both for playing favourites.
You have found joy and happiness in life, something some folk never find.
The fact they don't accept your second husband is disgraceful so if it was me I would pull up lame on the morning of the Wedding with a phone call to the folks stating you have all come down with a vomiting bug and obviously have to give the wedding a miss.  "So sorry"
Pack a picnic lunch and head off to the beach for the day.
Keep enjoying that lovely family of yours.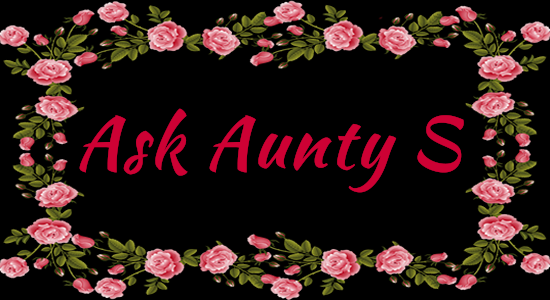 Dear Aunty S
After years of coping with my daughter's erratic behaviour, she has finally been diagnosed with a serious mental disorder but now won't keep on her medication because she misses her former self.
She is manipulative and has played the victim card all of her life and now she is telling everyone that I lied to the psychiatrist and he believed me, this is why she got the diagnosis.
I was not even at the appointment yet people believe her even her own Grandmother, my mother, this is how convincing she is!
She has stolen from us since she was very young and now she is in the workforce  I was told she has been accused of stealing but her employer couldn't prove it.
I am worried what will happen if she loses her job?
Recently her Grandmother asked her to move in with her but I am discouraging it as she might wear her out as she is in her late fifties.
What should I do?
Aunty S responds:
She refuses to take her medication and is a liar, what a dangerous combination!
You need a break from all this drama my dear so help pack her bags and move her in with Grandma.
If it turns to custard, so be it, at least your mother will see your daughter is mentally unwell which will help you in the long run as she will be supportive while you work on Plan B to keep your daughter safe and well.
It may be a long journey as you well and truly recognize.
Life can be so unfair at times.
Just take each day as it comes.
Take good care of yourself and keep in contact.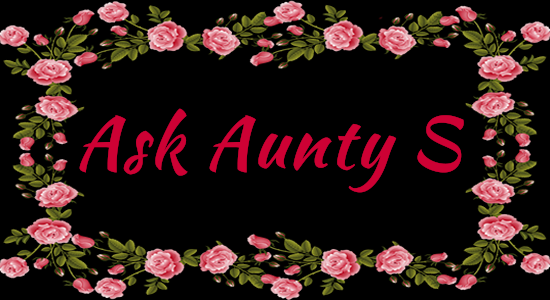 Dear Aunty S
I have never felt the need to drink alcohol as I enjoy the company of others as socialising is my thing but I have a problem with those who try to push alcohol on me.
Some comments are really cruel.
"Party pooper' or 'stick in the mud" or "won't your mummy let you drink" Or the one that really hurts, "So this is why your husband left you?"
What can I say to shut people up as I really could become anti-social which would make me sad.
Aunty S responds
Okay what works for me is probably a bit over the top but it does the trick!
In a deadpan voice say, "I have an allergy to alcohol, it causes me to vomit uncontrollably and once my bowels start, look out"
Trust me you will never be offered another drink, asked why you don't drink or ever have anyone force a drink on you ever again.
Tried and true……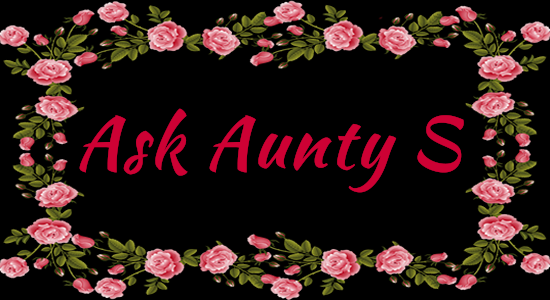 Dear Aunty S
My thirteen year old son threatens to run away from home every time I refuse to buy him what he demands so I end up giving in to his demands.
He excels at sport, is an A grade student, has really nice friends, yet he acts like a brat at home.
Our other kids are sick of his drama and now my husband and I are fighting all the time.
I know I have spoilt him but our other children, were brought up the same way and they aren't obnoxious.
Any tips?
Aunty S responds:
Okay Mum…….no more giving in to him, you are creating a monster.
He is a bright kid, he knows he has a lot to lose if he runs away and where would he run too anyway?
Call his bluff.
Tell him if he wants to run away, that is fine, but he must understand when he is picked up by the Police he will be put in the care of the Government and will be placed in a Foster Home.
He will lose his friends as their parents won't want them to be associating with a delinquent.
Scare the daylights out of him!
In time he will most probably settle down and behave himself especially when he realises he is acting like a fool and blowing his future.
All you can do is try your best my dear.
The rest is up to him.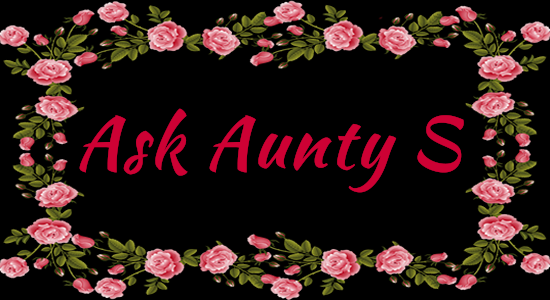 Dear Aunty S
My husband ran off with my best friend and set up house with her in our same city a few years ago.
He refused to see our kids which broke their hearts.
He also refused to give me permission to take our kids home to Australia as I am Australian but I had them all in New Zealand even though we lived in Australia.
For the past few years I couldn't take my kids home on holiday as he wouldn't give permission.
My family flew in regularly to see us.
The other day he told me I can now leave New Zealand with the kids as long as I promise never to return.
He has a new job and I know we must be an embarrassment to him so out of sight we must go.
Of course I agreed.
My concern is he will change his mind at the last moment before we fly out.
What should I do?
Aunty S responds
Considering his new position I doubt he will change his mind but you need to get out of the country quickly so contact your Lawyer and he will ensure your ex signs the appropriate papers.
Then book your flights and get the 'hell' out of New Zealand my dear.
Enjoy the rest of your life back in your country with the love and support of your family embracing you forever.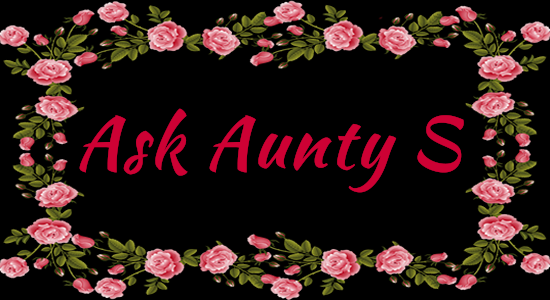 Dear Aunty S
My daughter-in-law is a changed woman since she had her first child.
She wasn't too happy throughout the pregnancy but we assumed she would come right when the baby was born. The pregnancy wasn't planned.
We were wrong.
She hates motherhood, she went back to work four weeks after the birth and I took over caring for my grandchild during the day.
My son picks his child up at night and also the evening meal which I prepare for them.
She is not depressed or sad, she just hates this 'mother thing' as she calls it.
She is in her thirties and has a high flying job.
She is actually a lovely woman and my son and her are a loving couple.
She has now asked me to take care of the baby full-time which I have readily agreed to but my son is worried we should give her more time to bond before taking this step.
Aunty S responds
Your son sounds like a fine man but going against his wife's wishes could cause conflict so best to go along with her.
She is being totally honest which must be respected.
I know of many women who should never have had children.
Sadly it sounds like your daughter-in-law is in this category.
You are a kind, caring and non-judgemental woman and your love for your family is obvious.
Your son can still stop in to see his child after work and you may like to keep making their evening meal which shows your support for both of them.
You are all very fortunate to have each other.
Keep in the back of your mind when your grandchild is out of the baby/ toddler stage your daughter-in-law may find it easier to bond, I know of a case where the mother accepted the child fully when they turned school age.
I wish you the very best and know you will be adaptable to whatever happens.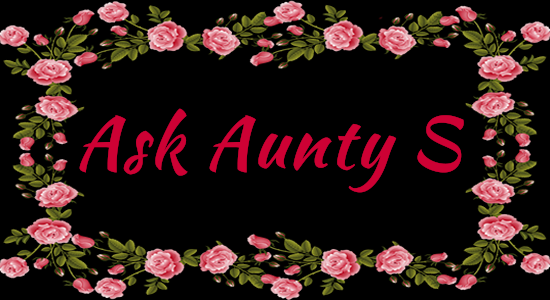 Dear Aunty S
I am sure my neighbour is pinching my veggies out of my garden.
My garden is huge as it is great therapy for me as I have been unwell.
I have three little jobs during the week and this is when the veggies are stolen.
What can I do to catch the culprit?
Aunt S responds

Go to your local Fishing and Hunting store which is not far from you and ask about a Trail camera suitable to catch this person out.
Hire a handyman to install it or a relative handy with a screw driver.
Easy to put up, I have put up a few myself.
Run it for a week and then check the footage.
If you have caught him on film, ring the Police and explain what has been  happened and how you have footage.
It's an offence to steal but I am fairly sure he will be advised by the police to behave himself.