To celebrate my 22nd wedding anniversary, Sam and Ruby put up bird netting over the cherry trees today while I made a head-start on patching up the holes in the nets.
Belle was sitting in her comfy chair supervising us the entire time!
Two Starlings were eye balling me the whole day.
If I could understand bird-speak I'm sure they were saying, "Leave a few holes for us to fly through!! Come on Sandra! You know you want to!"
I am absolutely shattered tonight; hence I am writing this from my bed where I am propped up by pillows to stop my head from falling over!
We are all having an early start at 5:45am tomorrow and hope to have all the nets repaired by 9am.
Our early cherries are just starting to colour up so the bird scarer and the birdshot will be deployed!!!
As an orchardist I have never tire of hearing the sound of bird scarers echoing throughout the Valley!
It actually doesn't take long to get used to the sound.
It's a bit like living beside a train track; after a while you don't notice the trains!
Will post photos of the nets (and the bird scarer!) tomorrow.

As my 59th birthday is creeping up on me I am reminded of the time when my dear friend Sheryl and I were in our twenties and we were talking about how we would feel when we reached the old age of 40!
How perceptions of old age change as one ventures through the time spectrum.
Four years ago Sheryl died very suddenly and even now I think of her everyday and wish she was here so we could laugh and cry together as we did all those years ago.
Here is a photo of Sheryl.                                                                                                                                                                                                                                      Isn't she gorgeous even though this photo was taken when she was over 40!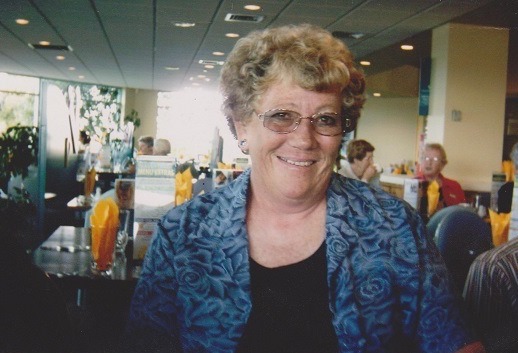 I received an email a few weeks ago from a very distressed woman who asked if I could assist her in working out exactly what she was allergic to as she believed her recent headaches were diet related.
Prior to her even giving diet a thought, her GP convinced her she must have something sinister and insisted she see a specialist in the area he believed was relevant to her symptoms.
Well to cut a short story even shorter; it was the new brand of coffee she was using!
She had decided to go for the more expensive brand thinking it would be better for her than good old Greggs!
It was a simple solution but she still visited the Specialist basically to tell him she was cured!
He agreed totally.
How many people go through invasive tests only to find out that it is simply diet related??
Obviously there are those who are not so lucky.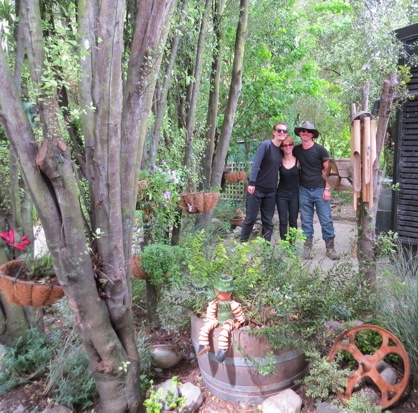 What a week we've had!
Last weekend was huge as our dear friend Anne stayed for a few days and she, Sam and Ruby had such a wonderful time.
I love hearing the excitement of young people having fun.
It was so nice to catch up with her.
An extra pair of hands certainly helped with the earthing up of some of the spuds. 
Anne had never done this before so she had an absolute ball!
She also had a wonderful time target shooting with the kids.
They had such great fun shooting up an old plastic container!
Sam is a very responsible shooter so the girls were under his strict supervision the entire time.
Sam has taught many a person how to shoot.
Anne had the best kind of personality for a Psychologist and if ever she sets herself up in Private Practice, I will recommend her services to everyone as she is very wise for her years; honest, reliable and just ever so lovely and natural. 
Having Anne as a friend has made me remember a girl I knew many years ago. 
Her mother had harped on to her about becoming a Psychologist throughout her entire secondary education so she just accepted that this was what she'd do.
Her Dad came to me and asked me to talk her out of it as she had the wrong personality for the job.
Education was free back then and I knew she would get bored with it part way through as she was a very young 17 year old. 
No crime there.
As predicted, she opted out after a few months much to her mothers disgust.
She went overseas and came back many years later, a mature young woman.
She was then ready for Psychology.
It is a costly lesson these days as kids are lumbered with a student loan and if a mistake is made one must bite the bullet.
The point to all this is to let our kids follow their dreams and not ours.
And if they do make a mistake with their career choice, don't turn it into a big deal.  They feel bad enough!
Anyway back to our great weekend.
Rach, her hubby and their two wonderful country kids popped in as well for a visit. It was so good to catch up with them.
We also had Sam's mate Bob pop in on Monday and they spent the afternoon catching up.
The highlight of the afternoon for us all was an outrageous phone call that was so ridiculous that we all thought it was a hoax! but sadly it wasn't.
The older I get the stranger some people seem.
In the old days, honesty was a done deal with most people but now this virtue is becoming more rare.
What a great invention a speaker phone is because without it we wouldn't have had our afternoon entertainment.
I remember my first speaker phone about 26 years ago.
It was like something out of the "Jetsons".
And who would have guessed all these years down the track we would have cell phones, txt messaging, emails, computers for work and school,phone banking, internet banking etc…. ah ah the Jetsons are real……
Oh and then during the week our old friends Bruce and Barbara popped in.
How nice it was to reminisce about Alex and share our own personal memories of our great guy.
Thank God for good friends.