Dear Aunty S
When ever I ask my 13 year old daughter to help with jobs around the home, she yells and tells me I can't make her do anything.
She then tells me she'll phone the Police if I make her and tell them that she is being hit by me.
She has threatened this over twenty times.
It has not worried me in the past as I have never hit her but now the situation has changed.
Yesterday she picked up a board, whacked her leg with it, made a large mark, and taunted me with, "this is what I'll show the Police if you don't back off."
I'm now really scared  as this doesn't appear to be normal teenage rebellion.
She is a leader not a follower and I have seen her bully some of her friends over the years which I've always pulled her up on.
I'm afraid she has a nasty streak.
My husband keeps saying she'll grow out of it and won't talk to her.
What do I do as  I'm really  scared and heartbroken?
 Aunty S Responds:
My darling of course you are both scared and heartbroken.
Only an idiot wouldn't be.
I'm so glad you have taken her threats seriously.
Book in a double or treble appointment with your Family GP and run as fast as you can to him and tell him what is going on.
If possible, secretly tape one of her outbursts before going so he can hear her in full flight.  (I have emailed you the details how this is best achieved and what equipment to use)
Your husband needs a boot up his backside for the lackadaisical approach to the situation.
Let me know how you get on.

Listening to the gentle patter on the roof this morning made me remember times of old when I was a child and rain was such a big part of my life.
The walk to the school bus stop usually meant my shoes and socks were drenched by the time I got there.
The bus driver was a very kindly gruff man and this particular morning my feet shot out from under me as I was pushed roughly up the stairs of the bus by a boy who had occasionally bullied me when I got in his way which wasn't very often as I avoided him like the plague.
I have always lived by the philosophy, "Tis better to be a live chicken than a dead rooster".
My jaw hit the floor and my knees buckled on the steps.
The boy, in such a hurry to get out of the rain, had no patience to wait for me to pick myself up; he just walked over the top of me.
I was Ruby's size in those days so it was a painful experience.
The bus driver dived out of his seat, grabbed the boy by his collar and carefully threw him off the bus.
No school for him that day and he was dealt with by his mother when the driver rang her after we'd arrived at school.
From that day on this boy left me alone.
I'm sure in todays world the bully's rights would have ensured the bus driver be reprimanded.
So when I hear parents say "Kids can fight out their differences", remember it only empowers the bully when everybody turns a blind eye.
The bus driver has passed on  but to this day I remember his act of kindness.

Dear Aunty S
My 12 year old daughter wants a horse.
She is accusing me of being a bad mother as her friend has one.
She had a pet lamb that she neglected.
She was into judo so I bought her all the kit and drove her a great distance to lessons but after only a month she quit. 
She demanded a guitar so I bought her one and once again drove her to lessons. 
She lasted two weeks.
I love my daughter but she is very lazy and her friend is not as she gets up early to muck out, feed and do all the things that have to be done before going to school.
How do I tell my daughter that she isn't responsible enough for a horse yet?
Worried Mother
Aunty S Responds:
Little madam needs a reality check.
Ring her friend's mother and ask if your daughter can stay with them over the next school holidays.
Make it very clear that you want your daughter to get up the same time as her friend and assist with all horsey duties.
At the end of the holidays you will know whether she has matured enough to take on such a responsibility of keeping a horse alive in her care.

Our neighbour's dog, Chappie, was hit by a car yesterday just a few hundred metres up the road.
He was determined to make his way home and was met by my son Sam who carried him on the last part of his journey.
Chappie retired from work after his master died last year and some thought he would die of a broken heart.
But he didn't.
He went on to have a wonderful retirement.
He kept a close eye on his master's wife, Molly, and had many a long walk in the Orchard either by himself or with the other farm dogs when his master's daughter, Alice, would give them a run.
Her commands often reminded us of her Dad and would bring a smile to our faces.
Chappie would venture into my back yard to say Hi from time to time.
The day before he died, he stuck his head in the ranch-slider for a quick catch-up. "Hi Chappie, how you going?" were my last words to him.
He gave me his doggie grin,  "Just checking on you Sandra".
After Alex died I was having a cry in the Orchard and Chappie came up to me and sat with me for about half an hour until I regained my composure.
He understood I was in pain and I returned the act of kindness after he lost his master.
Chappie was loyal to his family just like his master.
He had a look of "trust me"; just like his master.
He had a hobble; just like his master.
He was no fool; just like his master.
He didn't take nonsense; just like his master.
But most of all he was very dear to all who knew him; just like his master.

Twenty-two years Alex and I planted about thirty Poplar poles as a shelterbelt beside the Fruit Stall area and with sadness I have bade a farewell to them over the past few days as rot had worked its way down from the tops and they were becoming extremely dangerous.  Some were actually hollow inside!
It scared the living daylights out of me as at any stage they could have fallen!
They were such faithful friends, giving shelter to many.
Sam spent two days chopping them out and Ruby dragging them out of the way.  I certainly raised workers!
The greengages are flowering just alongside where the poplars stood and I have been kept entertained from my "supervisors chair" as I watch the wax-eyes, bumble bees and honey bees all darting in and out of the trees.
What wonderful wee creatures they all are.
Yesterday we decided to leave a few of them at a five foot level so as to connect fencing wire to grow climbing roses and honey suckles which will ease my sadness because since Alex's death I simply deplore changes in my life.
My gardens are a constant source of delight and peace to me.
For the first few months after Alex's death if I went missing Sam and Ruby always knew I would be somewhere 'out there'.
This is day three so the wire goes up today and the planting begins.
Ruby and I purchased heaps of plants from Molly so am looking forward to how it will look.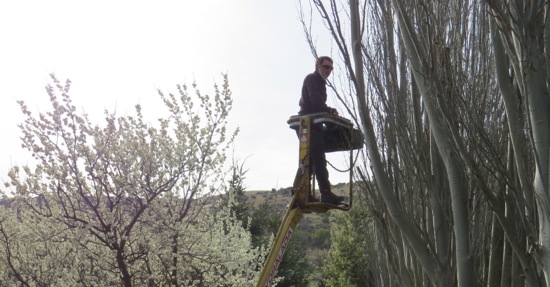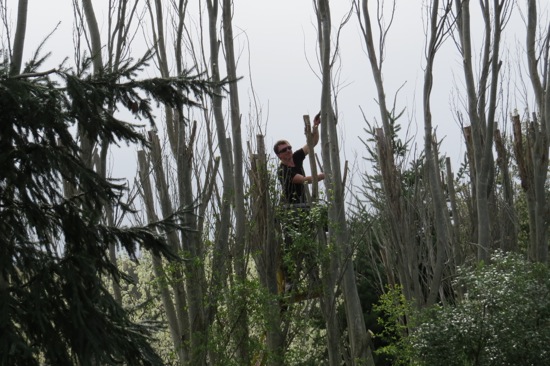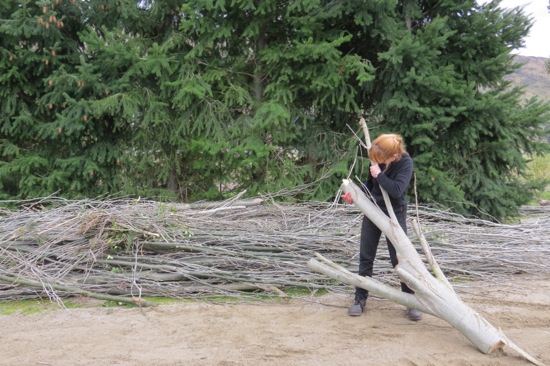 This is how it looks now: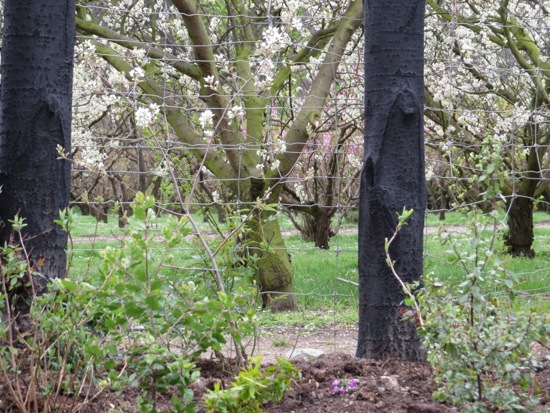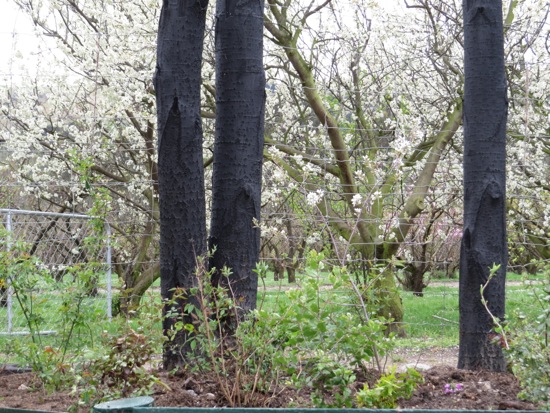 We had a long night of frost fighting last night.
Sam started up the sprinklers at 9:45pm and didn't shut down until 9:45am this morning!
Here's some photos he took of the end result.
He's got lots more photos on his FLICKR page.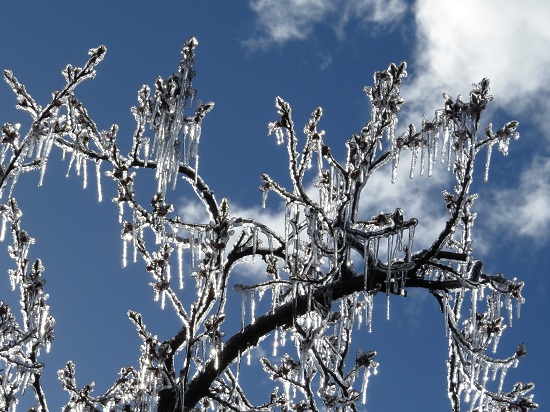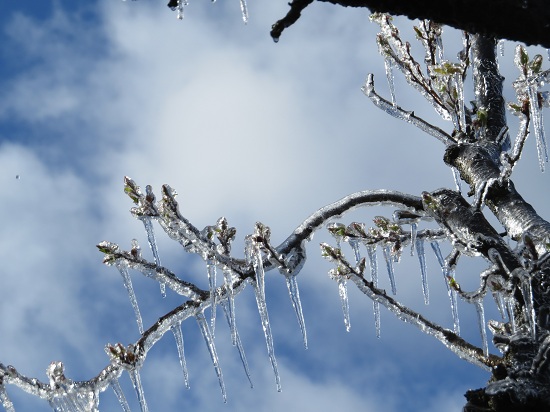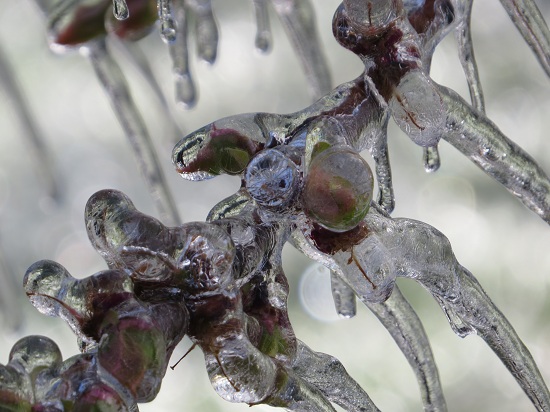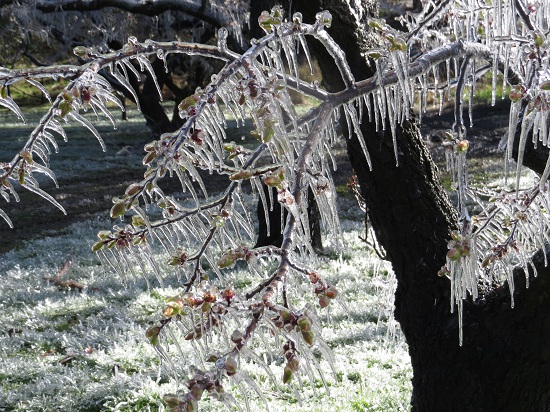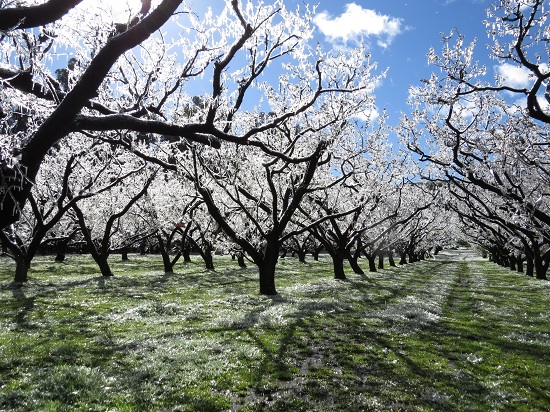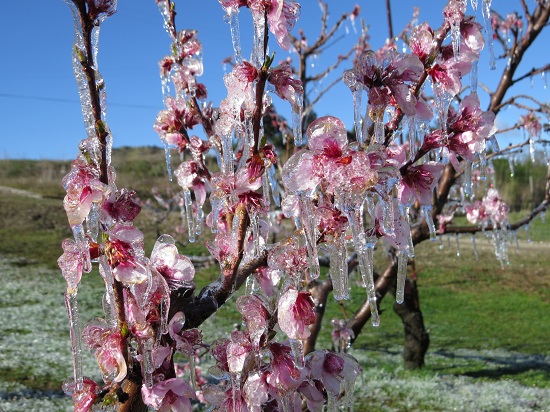 Sam also took a video of some of the sprinklers in action up the north end of the Orchard the other day.
Here's some photos Sam took this morning before he shut the sprinklers down.
He has inherited my love of photography!
This is the result of 10 hours of frost fighting!
For those of you who don't know the ins and outs of frost fighting the water is is pumped out of our dam and sprayed continuosly on the trees by the sprinklers.
The fruit is protected by the process of the ice forming a "cocoon" around the fruit.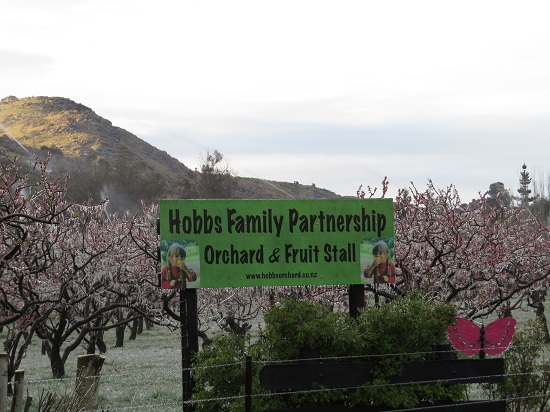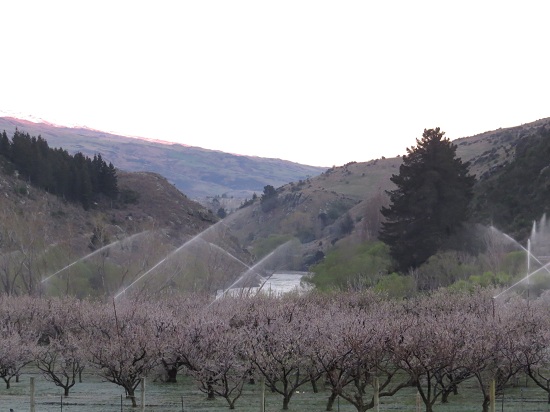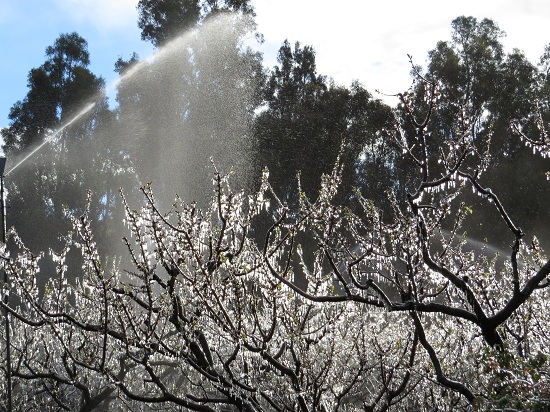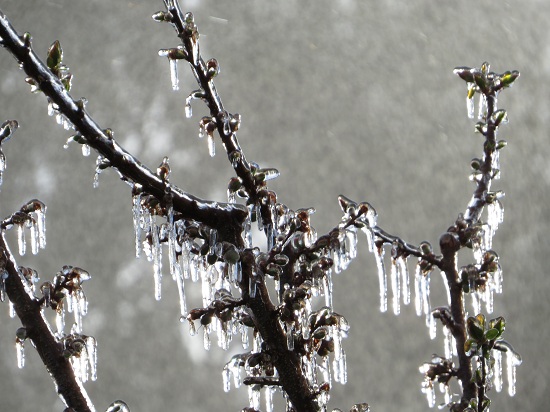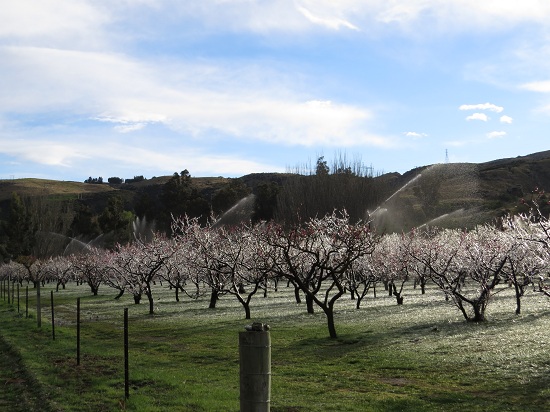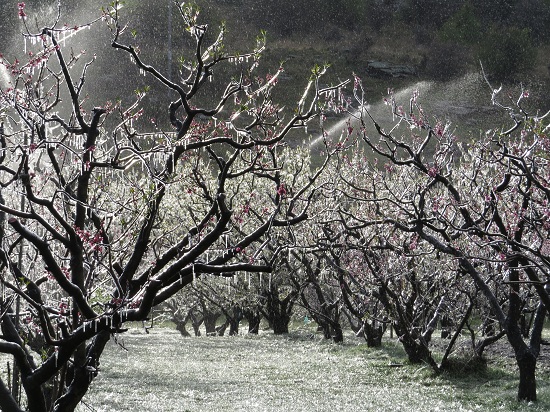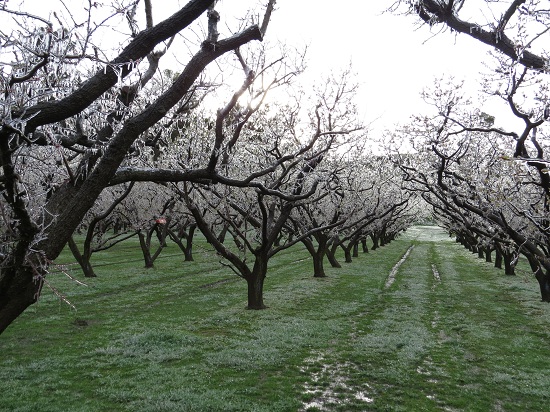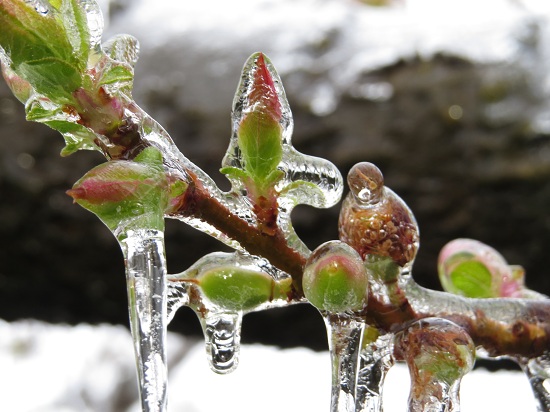 Dear Aunty S
In about six months time I will commence caring for my Mom full time in our family home; she is in the middle stage of Alzheimer's.
I found your blog via your Orchard website recently when I googled a pudding steamer and up popped your site with a Cherry Pudding recipe.
It was such a coincidence as I have been visiting many Alzheimer's websites seeking safety and equipment information and the more I read, the more I am confused.
You sound very practical and as you cared for your Mom for such a long time, it is obvious that the systems you had in place worked.
A bedroom to accommodate her is being built on shortly so any advice when it comes to the design would be appreciated and a list of equipment and safety advice.
Really just anything that will make life easier for us all.
Money is not a problem as my siblings and I want the best of care for Mom.
In our State, the nearest High-Quality Aged Care Facility to place her in, is way out of our price range and after much consideration, we are glad that we have come to the decision of Home Care for our Mom.
I am sure any information you can provide will also be picked up by others needing practical advice from someone who has walked the talk.
Also would you mind writing a simple explanation as to what Alzheimer's is, as I have a relative who can't grasp what is happening to Mom.
Many thanks.
M. D.
Aunty S Responds:
I am very pleased you found me, as I am only too happy to assist.
And always remember I am only an email/phone call away.
I can't say a car drive as you are not on my side of the equator!
Below are the changes you will need to make to your house in order to comfortably accommodate your Mom.
– She needs her own bedroom, and bathroom with a walk in shower.
– A partially covered deck or verandah (for the latter stages).
My Mother was never bedridden during the day as a lounge wheelchair, which could be adjusted for comfort, was used and the deck/verandah was her favourite spot.
The birds, the wind, the flower fragrances… it was so lovely to see her respond to such stimuli.
– A small sunroom with her own TV and stereo (this is more for the latter stage) or for when she wants some peace and quiet away from the family.
I have sent you a private email with basic designs of a bedroom, bathroom, sunroom and a deck (verandah).
Now, here is a list of equipment, clothes etc. that I recommend as it made my life easier when caring for my Mother.
– Shower wheelchair.
– A low bed with a really good soft mattress (comfort is everything).
– Electric bed with sides & Softform mattress (latter stage).
– Duvets (never blankets).
– A gorgeous bedspread or quilt (something she will admire).
– Seat alarm (this alerts you if she decides to get up from sitting and wander through the house).
– Pressure floor mat alarm (can be placed anywhere you don't want her to go).
– Height adjusted lounge chair (easy to get in and out of).
– Her own plates and cups in a bright colour (this encourages her to eat and
drink).
– Sipper cups (will require them at some stage).
– Food blender (puree her food as she will eventually choke if given whole food).
– Wheelchair for when you take her shopping (she will feel like a queen and you won't have to worry about her walking off).
– Soft wheelchair pad (to avoid pressure sores).
– Lounge wheelchair (for the latter stage so as not to have her bedridden during the day).
– Hoist to get her out of bed (latter stage).
– Soft merino clothes.
– Baggy pants.
– Merino socks.
– Pullover bras.
– Mirrors throughout the house so she is reminded what she looks like.
– Jewellery box with trinkets.
– Stuffed toys or toy.
– Good fitting shoes and slippers (no scuffs).
– A good podiatrist (foot care is vital).
– Denture cleaner.
– Soft soaps & shower gels (anything that smells nice to make her happy).
– Childproof your backyard with outside sensors so you know if she is trying to get out.
– Plant out brightly coloured flowers/shrubs in a garden area beside a well padded chair in a gazebo type structure.
– Adult diapers (latter stage)
– Pressure socks (latter stage)
– Funny DVD's
– Music DVD's (Daniel O'Donnell type of music worked for my mother)
– Magazines ( a huge pile) and a subscription to at least two new ones a week)
– Baby monitor (this gave me peace of mind at night)
When Mother arrived she was obsessed with attempting to fill the electric kettle and turning it on, and also switching on the stove/range.
I had to have eyes in the back of my head, until I changed the electric kettle to a model she had never seen before and the range to a European style which had knobs in the front not at the top.
Both of these were completely foreign to her and she was simply amazed at how nice they were so when visitors would arrive, she would exclaim, "Look at Sandra's new stove/jug. I don't know how to work them".
She never once attempted to touch or turn on either new appliance; problem solved.
She wasn't upset, just fascinated.
– Make her bedroom pretty and inviting.
– Have a collection of small teddies or dolls on her dressing table.
– Put pretty pictures and family photos on the wall.
– Ensure she has a deck where she can sit out of the sun; it must have sides to avoid falls.
– Roll up all mats/rugs and put them into storage.
– Carpet all areas if possible.
– Remove all coffee tables and bookracks.
– Remove all clutter from rooms, as she will find a way to fall over something!
– Don't leave china ornaments or valuables around the lounge as she will be keen on handling them and they will chip or shatter!
– Buy her a brightly coloured handbag; put little treasures inside such as a fancy notebook and pen, little
metal pillbox without pills, a tiny doll or a teddy bear or both, a silver mirror or anything else special.
– Arm and leg protectors (latter stage).
– Purchase an electronic toy such as a Furreal Friend. She will be fascinated by it and will believe it is "talking to her".
Mum was no good with our cat as she would handle it too roughly; therefore the cat would scratch her.
I bought a newborn puppy for my Mother as it was small enough for her to have in her lap.
It would bark and move its head which gave her such happiness.
It was very endearing to watch.
Mum would tell me how it had woken or if she forgot to pat it awake, she would tell of how it was sleeping.
Make sure you don't leave your laptop on the kitchen table, as she just may swoop past and catch it with her fingers; and yes it will fly quite a distance before coming into land!!
This happened to my son's laptop within days of Mother's arrival.
Thankfully his work was backed up.
Actually it was such a hilarious thing to watch; Mother growled at the then 15 year old Sam for being so clumsy!!!!
She then joined in laughing with us, totally oblivious to what she'd done.
Obviously I had a replacement for Sam by the end of the day.
One thing I must add; you may find some relatives/friends, critical of your decision to care for your mother.
The ability to deflect their negativity is vital as it can become very tiring and their comments may hurt you deeply.
I lost a few friends who were critical of our decision as "out of sight, out of mind" was the way they believed "Alzheimer's" should be handled.
The loss of their friendship was actually a relief!!
A good subtle sarcastic comeback phrase when dealing with negative people is "Good to know". One thing I have realised in my 58 years of living is, "Never argue with a fool".
My approach to the repetitive comments and questions from Mother during the day, was quite often dealt with by, "Is that right my darling?".
I simply defused any anxiety she may have had by a gentle approach.
She often spoke of her Father picking her up and taking her for a drive. "He'll be here soon my Darling" I would say and she would smile and of course forget within the next minute.
You will become an expert liar but for all the right reasons.
I had always called Mother "Darling" and she loved it.
In the latter stage she would come out with amazing random memories. Examples are as follows:
"You always have called me darling, Sandra."
"You said you wouldn't put me in a Home Sandra."
"You said we would buy bikinis and go to Hawaii one day Sandra."
When I was in my twenties I promised my Mother that I would care for her if ever she got old and couldn't care for herself.
She was greatly comforted by this as she was working in an Old Folks Home at the time and was frightened she could end up in one so that's when I made her the promise.
She tussled my hair and told me she knew I would do that. A lovely memory for me.
It was 20 years prior when I joked with Mother about going to Hawaii. We never spoke of it again!!!!
………………………………………………………………………………………………..
Alzheimer's – A Simple Explanation
Alzheimer's disease is the most common cause of dementia.
It is not a normal part of ageing.
It is a slow and progressive disease of the brain for which there is no cure.
The person's ability to remember, understand, communicate and reason will gradually decline.
Eventually, a person with Alzheimer's will lose all memory and mental function.
Looking at Alzheimer's in a series of Stages often can be helpful to the main Caregiver.
Some use the 3 Stage as a reference and others the 7 Stage.
But of course it is important to be aware that they are only a rough guide as some stages overlap or may not appear at all.
Then again, some appear earlier or later.
There are many websites that explain all the technical jargon.
I always knew Mother was going to die from the disease so I needed to remain focused on being positive and keeping her happy and well so I avoided "over reading" the subject.
Even when she could no longer speak she would follow me with her eyes and smile at the birds or beauty in general.
She was always "in there" right up to the very end.

Dear Aunty S
My friends dumped me within days of being widowed, a few years ago.
My husband and I had socialized with them for over ten years but apparently I was now a threat as I was single.
This devastated me as I thought they were my friends and I really needed their support as my husband and I were so close and his death devastated me.
But after a year or so I was back on my feet with new friends.
Recently one of these old friends lost her husband and she is getting the same treatment by the group that she dished out to me.
She has written to me asking if we can be friends again.
What do I do as I feel for her but definitely don't want her back in my life.
How do I tell her without hurting her?
Regards
C.T
Aunty S Responds:
Oh my dear what a sad old time you've had.
But you are back on your feet now with lovely new friends.
I totally agree with you, I wouldn't be going back for seconds either!
Write her a short note stating that you hold no bitterness and wish her well for the future but you cannot see a way where a friendship with her could ever be rekindled.